After October 21st being Back to the Future II Day, and the Danny Boyle-directed Steve Jobs unexpectedly bombing at the box office, we at AR Design thought it fun put together a monthly list (even though we hate lists) of movies that should inspire designers of any medium. From documentaries to Hollywood hits and misses, this list (to be released in parts) is sure to help in artistic times of need with architecture, animation, graffiti, industrial design, typography, painting, branding, photography, and a bit of surfing for good measure. Read. Watch. Get Inspired and stay tuned!
Drew: The Man Behind the Poster

If you are a movie geek or poster enthusiast you must have heard of Drew Struzan before. If not, Drew Struzan is the man behind the iconic movie posters like "Star Wars", "Indiana Jones", "Back to the Future" and many others. It wouldn't be too much to say that Drew is the Paul Rand of movie advertising. In this movie you will learn more about almost every poster he drew (no pun intended).

Exit Through the Gift Shop

If you haven't heard about this "documentary" about graffiti artist Banksy, we'd rather not spill the beans by getting too much into it. Come for the street art. Stay (or leave) for the conspiracy theories. This is a must-watch, not only because it is hilarious and gives us a fresh, real take on the world of street art, but it also begs the question: Is that art or just a brain fart?
Back to the Future

We couldn't not include it here. Powered by innovative special effects, unforgettable songs and nonstop action, Back to the Future is an unrivaled adventure that stands the test of time. Back to the Future immerses you in all the breathtaking action, groundbreaking comedy and sheer movie-making magic of one of the most brilliantly inventive, wildly entertaining motion picture triumphs in Hollywood history!
Helvetica

All hail the Helvetica! The most renowned and used typeface in the world is given a tribute on its 50th anniversary. Gary Hustwit explores the influence of the typeface to design and how designers use it to communicate to the world.
Milton Glaser: To Inform and Delight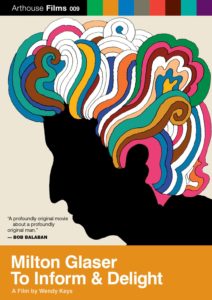 Wendy Keys' debut documentary offers a glimpse into the brain behind the iconic I ♥ NY logo and New York Magazine. Released in 2008, the film illustrates the full-breadth of Glaser's artistic work and has become a design docu classic.

Speaking of movies, check out our awesome new short film, Designer Days!