'Tis the season to stream some movies
Christmas is the ultimate go-to-the-movies holiday, but if you aren't in the mood to fight the crowds of Jewish families and crane your neck in the forsaken front row, take our word for it and binge some movies that will excite the senses and inspire creativity for the coming new year. From devilish claymation to a galaxy far, far away, our list of flicks was curated especially to get you through that second helping of ham and break up the 24-hour marathon of A Christmas Story. You can call us the ghost of Christmas future. Get cozy. Get the fire going. Read. Watch. Get Inspired and stay tuned!


The Nightmare Before Christmas is one of Tim Burton's most famous films, a musical fantasy thriller that was released in 1993. The movie makes use of an old school stop-motion technique and any graphic designers who want to learn more about stop motion should watch it. Aside from the use of the stop motion, another reason why graphic designers should not miss this Tim Burton film is because the original production has made use of sculpted models and sets, and it was the first ever film to have been converted entirely to 3D.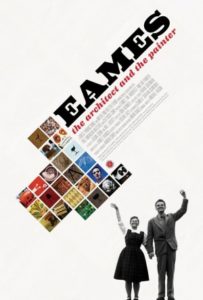 The husband-and-wife team of Charles and Ray Eames were America's most influential and important industrial designers. Emerging after World War II, the Eames devoted their lives to exploring what's possible with technology. They helped usher modernism into everyday American life, and became iconic with their design sensibilities. Admired for their creations and fascinating as individuals, they have risen to iconic status in American culture. 'Eames: The Architect & The Painter' draws from a treasure trove of archival material, as well as new interviews with friends, colleagues, and experts to capture the personal story of Charles and Ray, while placing them firmly in the context of their own fascinating times.
Pixar changed the animation game. Toy Story was the first full-length, all-digital movie; the first animation created entirely by artists using 3D computer graphics tools. Pixar Animation Studios, led by Steve Jobs, John Lasseter and Ed Catmull, inspired a digital revolution, blurring the line between art and technology, and bringing beloved characters to life with heart and humor. Toy Story turned 20 in 2015. This film is an excellent example of how arch plot can create a satisfying story experience that moves like a well-oiled machine and every piece has a purpose. Now go watch Buzz and Woody.
The first Star Wars film played like a rough, dusty intergalactic western, and was made against impossible odds and with an impossible budget. The iconic movie's visual appeal set not only industry standards, but blew the world away by what could be accomplished with imagination and movie wizardry. It was sci-fi that looked 'lived-in'. It is impossible to talk about the relationship between design and film without mentioning Star Wars, and it all started with A New Hope.
Netflix has done us all a holiday solid by streaming a happy hearth to set the mood. Suitable for this chilly time of year, Fireplace For Your Home is a steady visual feast of a simple, old-fashioned, wood-burning fireplace. Set to elegant holiday tunes, this crackling yule log is simply delightful. Plus, the campy trailer is hilarious. Check it out here.