The Pumphouse brand in it's purest from had been designed, but what it needed was a thorough cleanup, some new guard rails and a means to expand. We worked to refine all elements of typography, color and style. We created fun new sub-brand elements and made sure that the tone and voice of the brand was clear. All of that was tied together with a new brand guide book to keep things cohesive.
That's what we said when the Alex and Christian Le Clainche told us about this new space they were opening up. This new endeavor was to be so much more than any old coffee shop. Their two previous cafe's were a prelude to this extraveganza, the Pumphouse Pouratorium. 
This was 8,000 square feet of prime time West Palm Beach real estate that was going to house their full roasting facility, production, experimentation lab, and 100+ seat cafe. 
Putting it Together For An
The front of the Pouratorium is one part modern cafe, one part funky warehouse. With an added message to all passers-by that this is the house of good coffee, there is no mistaking that inside is something special. When you drive by, be careful not to hit the people stopping to take pictures.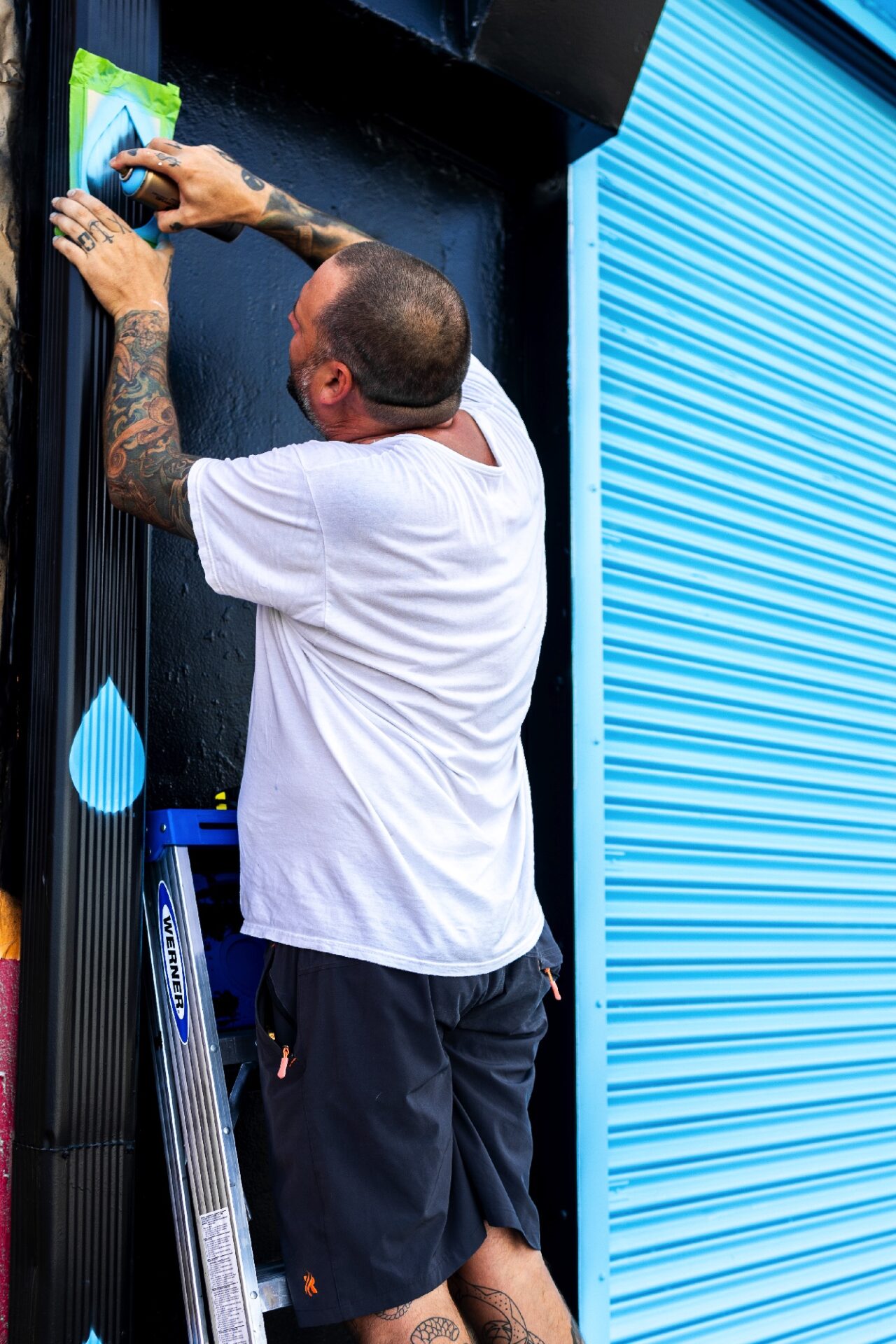 While the build out of their new space underway, we worked closely with their team on everything that was going to be inside the building, from a new lineup ofcoffee bags, to tap handles, to merchandise and glassware.
Inspired by the beach, the sun, and our surroundings, this bag became the platform for the brand's roasted coffee.
We launched into discussions of packaging at the beginning of the project knowing that we were dealing with significant lead times. Early talks centered around creating something bold and modern, a style that could be instantly recognizeable. It also needed to not only service current offerings, but many more in the future. The brand had been using bright blue colors in many of their brand elements and so we started there. Our vision for the design began with our surroundings, the Florida beaches and lifestyle. 
Getting a full line of merch together meant expanding the brand in a variety of fun ways. While staying true to the roots, we also wanted to give the people something beyond the basics.
Since the Pouratorium opened in January of 2023, the brand has welcomed thousands of guests through their doors to enjoy the refreshed brand, it's product line, and of course, it's amazing coffee.
Increase in Online Traffic