Part Two: The Process of Planning
Imagine planning an event that has never been done before. Where do you start? Add to that the fact that we had never planned an event. Create Day is not the presidential inauguration, but for us it seemed like a sizable undertaking. If you know us, then you know we like a good challenge.
One Step at a Time
With the concept formed, the time came to start planning. We made pages of lists, but did not know where to begin, because each task had a different level of importance. Luckily, our friend Kelli Drum, who is a master at putting on social and corporate events, offered to give us some guidance. We needed a coach, someone to help us get the priorities in order. But, we didn't want her to do the work for us, we wanted to jump into the trenches and learn for ourselves.
The Perfect Place
According to our new event coach, the first thing we needed to secure was a venue. Coincidentally enough, the perfect place fell into our laps when we met the proprietors of The Kelsey Theater to discuss web design. Towards the end of our meeting, we casually mentioned Create Day, describing our vision for the event, and they expressed enthusiastic interest. The Kelsey Theater was perfect for what we had in mind. It has an old school, wide open, punk rock vibe to it; it's like a place you'd go to as a teenager to see that 'soon to make it' band.
The very next day, we followed up with Sharon, the event manager of the Kelsey, who wasted no time in committing to Create Day. And just like that, we had our venue. This was, by far, the easiest part of the process and a sure sign that luck does come in handy.
The Pitch
The next thing on our list was finding instructors to teach the workshops. This was to be the most challenging aspect of planning Create Day, because it meant cold calling artists and business owners, asking them to donate valuable time and materials to something they have never heard of before.
One of our many planning lists was the workshops we wanted for Create Day, things like painting, knitting, origami, music, calligraphy, and floral arranging. We started with a couple dozen emails and hopes that people would naturally say yes (like the Kelsey Theater had done) to this unbelievably original, awesome, amazing and clever idea of ours, but we had no success or even a response. It seems our 'baby' wasn't as attractive as we imagined.
Shot down, we began changed strategies, now calling people on the phone rather than email. Kelli gave us a list of contacts, friends of friends, and we Googled things like 'Artist West Palm Beach' and 'Calligraphy Palm Beach County' to narrow the field. Calling everyone we could, we still had little success. Looking back, this was because we were nervous and unsure, and it came across in our voice. Event planning was out of our wheelhouse and not something we knew how to sell, but we didn't give up.
The confidence we needed came when the first instructor agreed. It was for the painting workshop. Having that instructor sign up to participate in Create Day was monumental to us; it was like we just won the artist lottery and it set off a lightbulb. We needed to let the idea sell itself. Get them on the phone, and just describe Create Day like how we told our friends and family.
Quickly following the painting, we got two more instructors to commit. Then a few more, and within 3 weeks of our first commitment we had the entire list checked off.
The Sponsors
As the instructor signups started to come together, it was time to use our new confidence to switch gears into acquiring sponsors. We didn't even bother to send emails for this one, because now instead of asking people to donate their time and skills of things they love to do, we were asking people to give us money to put on an event that they had never heard of before.
We started by calling people we knew who owned businesses, those who worked in fields of design, technology, and folks we had met at various networking events or happy hours. We then reached far and wide, contacting boutiques, restaurants, lawyers, printers, realtors and anyone who would answer the phone.
We set ourselves a cut off date, a date in which we would stop and bite the bullet by putting up the money ourselves. We thought the process of getting instructors involved was tough until we started asking people and businesses to fork over money.
It's funny, after asking dentists, lawyers, real estate and brokerage firms, the only businesses to share our vision, were in the design and arts industry. The local, small design and marketing agencies, some of whom are our competition, stepped up and sponsored Create Day.
The Packaging
To make this successful, we had to engage all the parties involved. To create the right vibe for this event, we wanted everyone to feel like it was their own. We made it our duty to constantly and consistently communicate with sponsors, instructors, and the venue, keeping them up to date on our progress, and thanking them.
In parallel with our outreach we continued to cook up crazy ideas to improve the event and designed collateral material to promote it. We launched an email campaign for news and updates, pushed out social media updates, printed glossy flyers (wth a cat on it) and made it a point to hand-deliver signs and flyers to those involved.
At every step we focused on keeping the messaging flowing and involving those who were interested. This was the least we could do, and we stuck to it from planning to production. By going that extra mile, we hoped our enthusiasm would be infectious.
Challenges, Turned Into Features
As expected, minor inconveniences started sprouting like little artistic weeds. We had a screen printing company committed, but we weren't sure logistically how it would work. It didn't fit the format of what we wanted for our workshops. One of us came up with the idea of having it as a continuous side attraction for people to explore at their will. The idea got better when we decided to buy a bunch of vintage shirts and screen-print directly over the images already on the shirts, creating a blended piece of art. We went to thrift stores and rummaged through hundreds of pungent clothes to find funny shirts that would work for what we had in mind. We needed a shower after those field trips.
Then came the trouble of how to keep this manageable. We didn't want Create Day to spin heads and cause frustration. The idea of making it small was to not just to avoid biting off more than we could chew, but also to keep the experience more intimate. To keep a close eye on it, we started a free Eventbrite account to keep track of tickets, and emails. We planned to go live a month away from the event, capping it at 110 attendees.
Ughhh…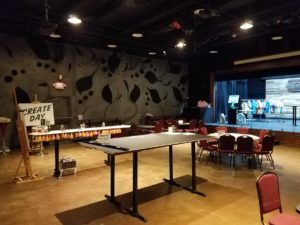 Another reality set in as we got closer to the event and that was that our attendees didn't realize that we wanted this to be an event with a hard start and stop time. Since it was to be centered around timely workshops, we didn't want people to look it like a concert where you could just show up whenever you please. This needed our attention and we used our outreach channels to hammer this home. We informed everyone that workshop signups would be closed 30 minutes after the start of the event. Anyone who followed us on social media or our newsletter got the message and on the day of the event, we had a line of people waiting to get in.
Then, a few real problems hit us. A few instructors dropped out with just a week before the event. The first was origami, led by a college student who previously ran his high school's origami club. The lesson for us was to trust our gut and don't rely on a college kid. Not to say all college kids are unreliable, but for something as important as this, we should have been more selective. This was a low blow, but it prepared us for the next one. Like a ton of quill pens, our calligrapher dropped out.
This meant we had to scramble to find two more instructors. That's when we pulled out the stops, started cashing in favors and circling back on emails we had sent in the beginning. We luckily got another calligrapher who was quick to respond and eager to get involved, followed by a friend of ours who happens to be very talented at chalk art. Long story short, we had our instructor team set. Thank goodness.
The Promotion
Sure, we made posters and flyers, but the real promotional benefits came when with our appearances at other events, where we were able to show our enthusiasm for Create Day, instead of just writing about it. Our promotional tour started  at the Palm Beach chapter of CreativeMornings™, and the monthly Meetup™ of Palm Beach Tech. We then were on a local radio program, as well as the West Palm Beach morning news. After each of these events we saw a noticeable uptick in event signups.
The Devil is in the Details
Little things bring big results. All along, there were a few ideas that came to us that we knew would have a big impact on the folks coming to the event.
The first was a communal art project, where people could draw, paint and scribble on a big canvas. We took this to the next level, as we do with everything, by stenciling the words 'Create Day' on it, providing a starting point for people to coating their creativity.
The second idea was a typewriter where people could just write whatever they want. We deemed it the Stream of Consciousness Typewriter, and got a Kerouac-like scroll of paper from a company called Ribbons Unlimited. They heard our idea and sent us a roll of paper for free. The typewriter came from Craigslist.
One of the last things, was the party favor we wanted to hand out to participants. We were going to go the obvious t-shirt route, but it seemed less than creative. That's when we had an outstanding idea. Aprons! What better way to promote people getting their hands dirty. Aprons are utilitarian; they encourage hard work and creativity. Plus, one size fits all.
Crafting an Idea, Creating an Experience
It's surreal watching an idea turn into the real thing. The day before Create Day, we spent hours setting up the venue: hanging banners, getting tables and chairs ready, designating areas for food, water, Legos (yes, we had a table full of miscellaneous Lego pieces), and making sure it was all perfect.
Here we were, the night before this crackpot idea was about to turn reality, on the threshold. As we finished preparations, we took a step back, said cheers and prepared ourselves for the big day. Tomorrow is create or die.